#59 – Human Retrovirus, Chronic Illness, and Scientific Prejudice ** January 14, 2015Guest // Judy Mikovits, PhD ** Host // Sayer Ji
Listen to Fearless Parent Radio online on PRN.fm at 7pm ET or on your phone by dialing (401) 347-0456. Once the show has aired, listen via our Archived Shows page, iTunes, or Podbean.
http://fearlessparent.org/radio-blog-human-retrovirus-chronic-illness-scientific-prejudice-episode-59/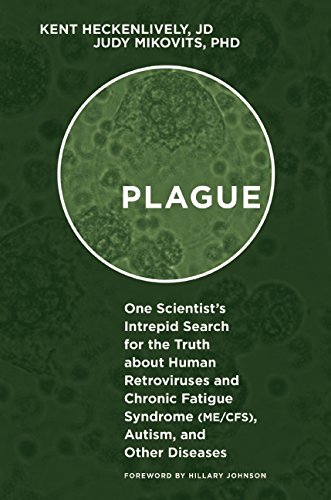 On July 22, 2009, a special meeting was held with 24 leading scientists at the National Institutes of Health to discuss early findings that a newly discovered retrovirus was linked to chronic fatigue syndrome (ME/CFS), prostate cancer, lymphoma, and eventually neurodevelopmental disorders in children.
When Judy Mikovits, PhD finished her presentation, the room was silent for a moment, then one of the scientists said, "Oh my God!" The resulting investigation would be like no other in science.
Host Sayer Ji will give us the down low on what happened, how this relates to scientific prejudice, and what it all means.
Why is Judy's new book called Plague?
What's a human retrovirus and how does transmission occur? What's the amount of retrovirus found in the normal population?
What do we know about retroviruses and chronic disease?
How do environmental toxins add to the problem?
Why do the CDC and NIH view Judy's research as a threat? Is it related to author Hillary Johnson's foreword: A Disease Able to Affect the Economies of Nations?
What kind of research is urgently needed? What advice would you give regarding the best way to structure and fund these studies?
What are things we can do to protect our families?
Judy Mikovits, PhD earned her BA from University of Virginia and PhD in biochemistry and molecular biology from George Washington University. In her 35 year quest to understand and treat chronic diseases, she has studied immunology, natural products chemistry, epigenetics, virology, and drug development. In 20 years, she rose from lab tech to director of the lab of Antiviral Drug Mechanisms at the National Cancer Institute before leaving to direct the Cancer Biology program at EpiGenX Pharmaceuticals in Santa Barbara, CA. She became attracted to the plight of patients with chronic fatigue syndrome (ME/CFS) and autism and is primarily responsible for demonstrating the relationship between immune based inflammation and these diseases. She has published over 50 scientific papers. View the book trailer and listen to a short conversation with the authors of Plague.
Sayer Ji is a Strategic Advisor for Fearless Parent™, our business partner, and dad of two. He founded GreenMedInfo in 2008 to provide an open access, evidence-based resource supporting natural and integrative modalities. It is one of the top five natural health sites in the world (Alexa ranked), internationally recognized as the largest, most widely referenced health resource of its kind, with over one million visitors a month. Sayer is on the steering committee of the Global GMO Free Coalition and an advisory board member of the National Health Federation.
http://fearlessparent.org/radio-blog-human-retrovirus-chronic-illness-scientific-prejudice-episode-59/